Classified
Personal Classified Ads, FOR SALE & WANTED are free for VSCDA members and $30/month for non-members. COMMERCIAL ads are $30 a month. The Classified Ad section of the web site is updated the first week of each month. Ads will be removed after one month unless renewed by the 23 rd of the month.
Mail payment to:
Vintage Sports Car Driver's Association
Stacey Donato Office Manager
1600 W. Market St.
Logansport, IN 46947
Ad copy with your contact information should be e-mailed to vscda@vscda.org by the 23rd of the month.
1993 Winnebago Warrior 22RB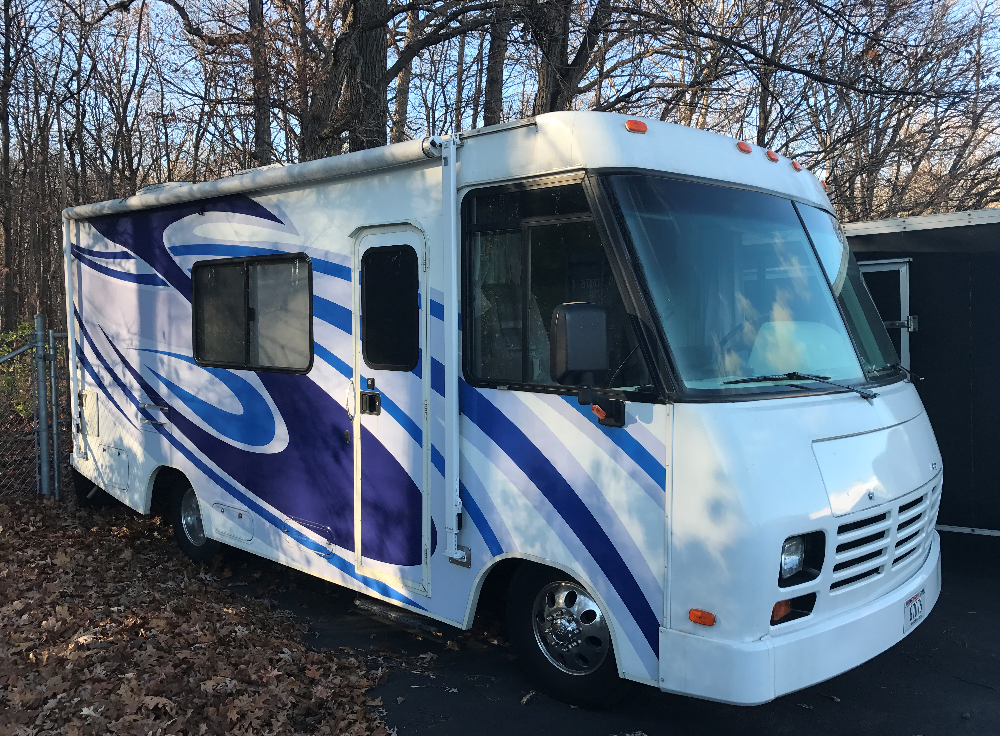 For sale 1993 Winnebago Warrior 22RB  49,000 miles
22' long 454 TBI fuel injection on Chevy P30 chassis
Very good condition, complete wrap custom exterior, new awning
Bilstein Shocks, and steering damper
16" Alloy wheels with newer tires (two years and few miles)
Newer upgraded mirrors
4000 Watt Onan Generator just serviced
Leather steering wheel upgrade
TV with DVD player on wall mount.
No rips or tears on upholstery
Includes a custom flag pole holder (chrome plated because I could)
Asking $14,750
Jeff @knoebel.com or cell phone (414)861-1614
1964 AC Shelby 289 FIA Cobra
1964 AC Shelby 289 FIA Cobra
Full Competition Historical Re-Creation
Race Car:
As I am now 74 years old I have a special car in
my personal collection that I think it's time to
move it on to a new owner that will enjoy and
appreciate the car…
Created by Gentry Motor Works, A past manufacturer
of Limited Production Cobras… GMW cars were featured
in Road & Track Magazine…. This car was produced
in 1996 and was built with no monetary restrictions…
The car is as new with only 100+- test miles… It has
A Vintage Sports Car Drivers Association (VSCDA)
Log Book…. Cost $87,700.00…. (There is an additional/
spare chassis and body available for purchase)…
This is NOT a kit car…. This car has the very highest
quality design and workmanship
For detailed specifications and additional photographs
go to: www.gentrymw.com
General Specs: Original design Mark III Chassis and
suspension, 600 HP Ford, 410 CID, Alum Heads,
4-stage dry sump, multi disc carbon fiber clutch, large
shaft Ford toploader trans, 9" differential, fuel cell,
lower cockpit cage, Wilwood brakes, pin drive hubs,
Halibrand wheels, Goodyear Blue Streak tires,
Fire suppression system…
Contact John Gentry, www.gentrygrou@aol.com
(256) 303-4396
3/1 – 6/1
GRAND OPENING SALE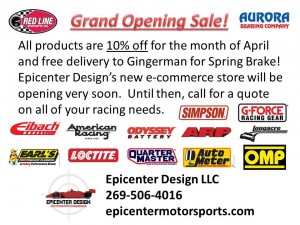 4/1/16
SPRITE PARTS FOR SALE
American Racing Libre wheels and used Hoosier tires
Rear sway 1″ with brackets
two new rear axles
All offers entertained
Mike 262-210-3425
Video courtesy Jessica Jonk.