Group 2 — Vintage Production Based Sports Cars
What We Race:
From the 50's through 1963 i.e., Alfa Romeo, Austin Healey, Jaguar, MGA, Morgan, 356 Porsche, Triumph, Volvo, Elva Courier, most Lotus 7, etc. Certain post 1963 continuation models i.e., all Midgets/Sprites, MGBs, Minis, regardless of age or engine selection and 356C Porsche.
CLASS A – over 2 liters
CLASS B – up to and including 2 liters
CLASS C – through 1,600 cc
CLASS D – under 1,300 cc
CLASS E – under 1,000 cc
CLASS M1 – w/modifications
CLASS M2 – w/modifications
Group Representative:
Stan Mason
E-mail: stanbmason@aol.com
NOTE: THESE CLASSIFICATIONS ARE BASED ON FULL REPRESENTATION OF ALL VSCDA ELIGIBLE CARS AND SUFFICIENT ENTRY TO CONSTITUTE A SEPARATE RACE GROUP FOR EACH. AS FIELDS WILL VARY FROM EVENT TO EVENT, SO MAY RACE GROUPS AND CLASSIFICATIONS.
VSCDA reserves the right to reject or reclassify specific vehicles and to combine groups for any given event. Group 5 cars are sometimes combined with Group 3 Sports Racing Cars. Group 7 cars are sometimes combined with the faster Group 4 cars. Slick racing tires allowed in Groups 5, 7 & 9 ONLY. Event Chairs will move individual cars to other groups if their speed is substantially faster than other cars in their assigned group.
Group Image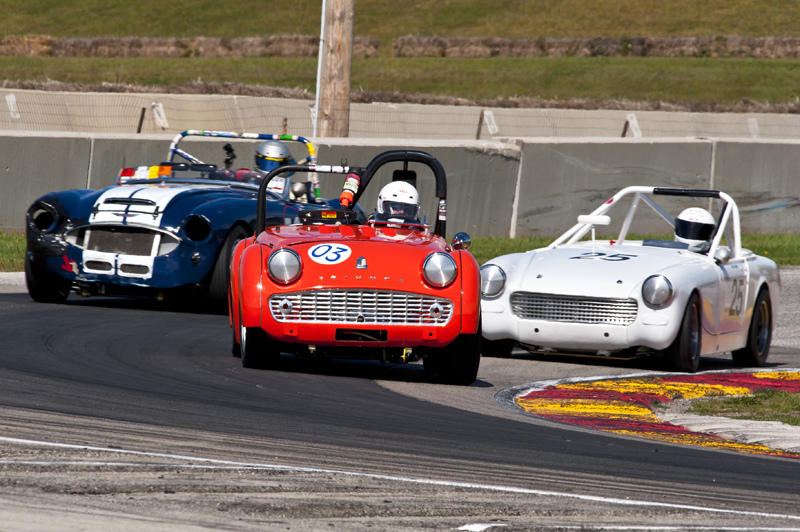 Video courtesy Jessica Jonk.