Group 9 –
Closed Wheel Competition Cars
What We Race:
These cars are modern production cars; post 1972. Cars that are prepared for a later series of racing that would make them ineligible for other race groups. Car prep steward will determine eligibility of vehicles.
Modern racing prototypes – IMSA GTP, CAMEL LIGHTS, FIA C/C2, WSC, LMP, Daytona Prototypes examples: Porsche 962, Tiga, Kudzu, Spice, Nissan GTP, Jaguar XJR, Audi, Riley & Scott, Lola, Oreca, Etc.
Modern Era Global GT Cup/Challenge – FIA GT4, Porsche GT3 cup, Ferrari Challenge, World Challenge, Grand Am GS, Etc. Examples: BMW M3, Porsche Cup cars: 964, 993, 996, 997, 991, Mustang, Camaro, Corvette, Viper, Panoz, e
---
Group Representative:
Road America
E-mail: ELVF@vscda.org
NOTE: THESE CLASSIFICATIONS ARE BASED ON FULL REPRESENTATION OF ALL VSCDA ELIGIBLE CARS AND SUFFICIENT ENTRY TO CONSTITUTE A SEPARATE RACE GROUP FOR EACH. AS FIELDS WILL VARY FROM EVENT TO EVENT, SO MAY RACE GROUPS AND CLASSIFICATIONS.
VSCDA reserves the right to reject or reclassify specific vehicles and to combine groups for any given event. Group 5 cars are sometimes combined with Group 3 Sports Racing Cars. Group 7 cars are sometimes combined with the faster Group 4 cars. Slick racing tires allowed in Groups 5, 7 & 9 ONLY. Event Chairs will move individual cars to other groups if their speed is substantially faster than other cars in their assigned group.
Group Image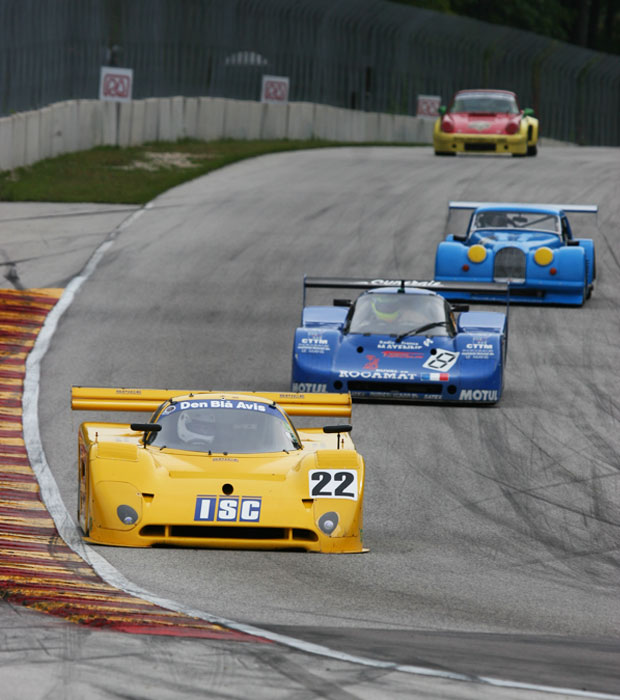 Video courtesy Jessica Jonk.