Current News
Vee In '23! VSCDA Planning Formula Vee Reunion
May 14, 2021
VSCDA is planning a 60th anniversary celebration of Formula Vee in September 2023! Read more here: Formula Vee Reunion
VSCDA and Road America Extend Partnership for Three Years
VSCDA is delighted to have signed a three year contract with Road America to continue holding our Elkhart Lake Vintage Festival ("ELVF") at Road America during September. The arrangement will allow for further growth in one of the nation's premier vintage racing weekends at the internationally renowned Road America 4 mile road course. Below is a picture following the signing this March 26th.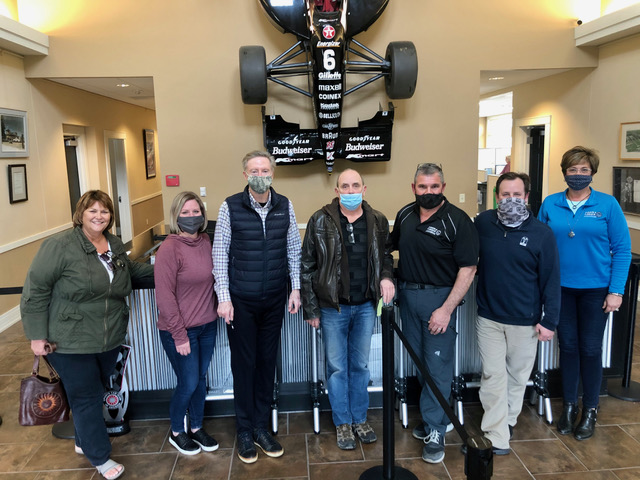 (In photo from left to right: VSCDA ELVF Co-Chair Deb Korneli, Road America Business Development Manager Sunshine McNerney, VSCDA President Alex Rorke, VSCDA ELVF Co-Chair Mike Korneli, VSCDA Vice President Jim Donato, Road America President and General Manager Mike Kertscher and VSCDA Office Manager and Chief Registrar Stacey Donato. Photo by Road America Vice President for Operations Greg Wieser.)
The Victory Lane Podcast Interviews Alex Rorke of VSCDA
Alex Rorke, VSCDA President, in conversation with Celac Colvert discussing their upcoming event on the weekend of 6/19-21, 2021. Alex explains the work that went into ensuring the safety of participants as well as some the innovations that were involved in producing the event.
COVID-19 Information and Updates
To VSCDA Members and Interested parties:
VSCDA's primary concern is for the safety of our racers, members, guests and extended family of volunteers. We are closely monitoring the situation with COVID-19 and currently plan to continue with our racing schedule for the year. This includes Gingerman Spring Brake Drivers School & Race (April 30-May 3) and Blackhawk Classic (June 19-21). Their Event Chairs are working on contingencies and new systems for the events that will lessen exposure risk for all. Of course, we do not know what circumstances will be a month from now. We will keep you informed and certainly comply with all governmental requirements. At this point, please keep prepping your cars.
We are looking forward to seeing you throughout our 2020 racing season.
On behalf of the VSCDA Officers, Board and Event Chairs,
Alex Rorke
VSCDA President
Video courtesy Edward Hinsa