Classified
Personal Classified Ads, FOR SALE & WANTED are free for VSCDA members and $30/month for non-members. COMMERCIAL ads are $30 a month. The Classified Ad section of the web site is updated the first week of each month. Ads will be removed after one month unless renewed by the 23 rd of the month.
Mail payment to:
Vintage Sports Car Driver's Association
Stacey Donato Office Manager
1600 W. Market St.
Logansport, IN 46947
Ad copy with your contact information should be e-mailed to vscda@vscda.org by the 23rd of the month.
Yenko Stinger YS 309
I have finally decided to retire from racing. Therefore YS 309 is for sale.
YS #309 is a Medallion-authentic period-correct vintage racecar (to the 1972 SCCA General Competition Rules, which is the standard compliance for vintage cars.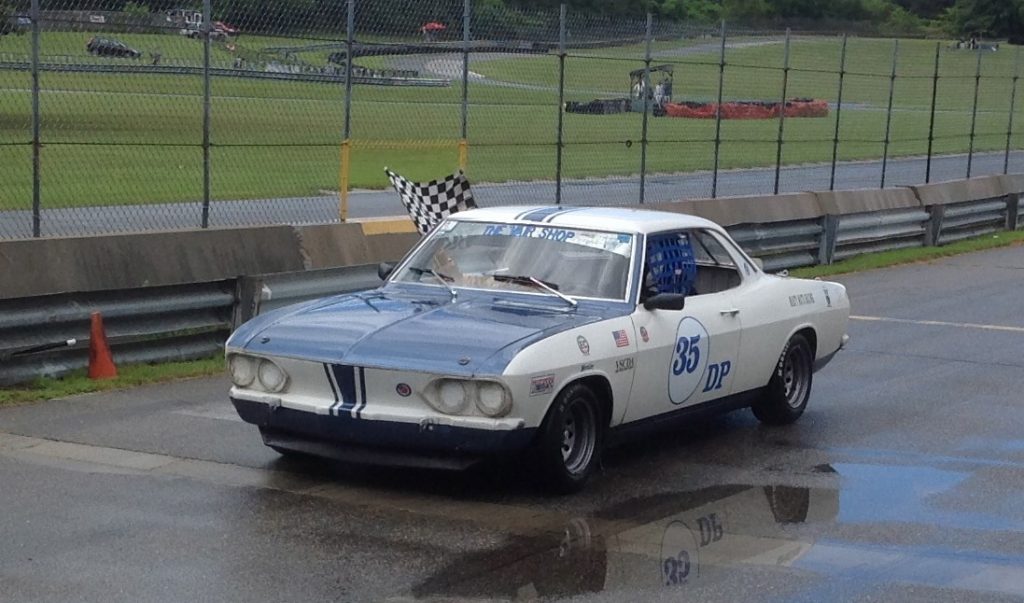 The car comes complete with a transponder, 2 racing logbooks (its entire racing history), full rollcage, Buick Skylark aluminum drums on all 4 corners with Kevlar linings and an adjustable proportioning valve. I even have the receipt from Don Yenko Chevrolet for the Stinger kit (continuation series car).  The car has a carbon fiber decklid and a Lexan rear window. YS #309 has had two minor dents (repaired) and no structural damage.
I have 3 engines – one with a roller hydraulic cam & pop-up pistons, freshly redone Stinger carbs (over-bored carbs), a brand new (Seth Emerson) distributor, a breaker-less distributor and one with regular points distributor), all hookup into an MSD ignition. Included are 3 transaxles – 3.27. 3.55, & 3.89 (all 4 pinion Positractions) with 2 close ratio (2.54 low) and one ultra close ratio (2.20 low) gearboxes
The entire package includes extra parts – engine cores, 140 heads, doors, hood, extra Stinger decklid, and more, plus two paddock bikes, a Suzuki 100 and an Honda 90 plus a 20 foot enclosed car trailer.
I am asking $49,000 for the entire package.
Additional Photos on request.
Bob Storc
248-701-4322
1965 Causey P6 Special
1965 Causey P6 Special.  One of only three cars made. Powered by Peter Dawes Racing Porsche motor. engine, Mk5, refreshed 2018. Last raced ELVF 2018. Numerous class/race wins in SVRA, VSCDA and Historic Can Am. New fuel cell 2018. Spares and 3 sets wheels/tires/rains. $150,000 See further details at kaskesclassiccars.com contact Mike at 262-210-3425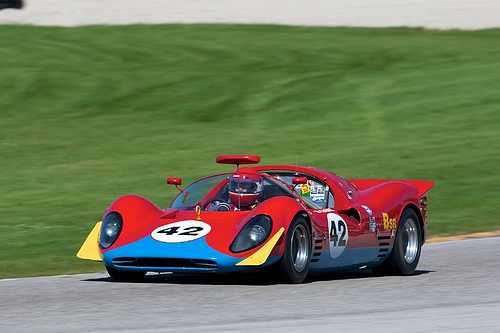 1972 McCann ME-4A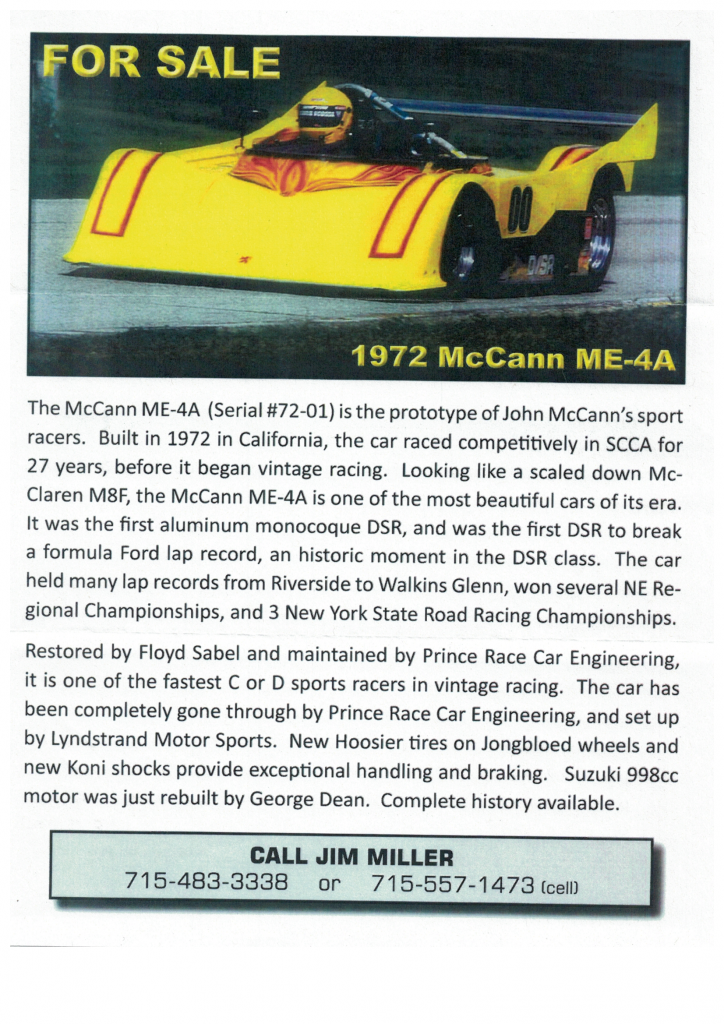 1961 MGA 1622
Well known ( SVRA/HSR/VDCA/VRG) Full race 1961 MGA 1622 with fresh ( New ) C/R Helical gears and New Tilton Clutch Pac and release bearing…
Prather built 1622 with Comp-tune Head. 210/220 compression across all 4 cylinders Cold.
Prather Cooling System Set up
Custom Oil Cooler Set up
Tilton Pedal Box
4:33 Locked Rear
MGA/MGB Hybrid Rear (captive bearings)
Fuel Cell
Removable Steering wheel
Custom adjustable seat
Custom MGB front uprights with MGB Brakes
Pertronix Ignition.
Excellent front running MGA. Several 1st place wins..
Watkins Glen 2:28 3rd place Collier Cup
Road Atlanta 1:49
Pictures available upon request
$19,500.00
Other offers always welcome….
Steve Konsin
703 628 3517
skonsin@aol.com
Atlanta Ga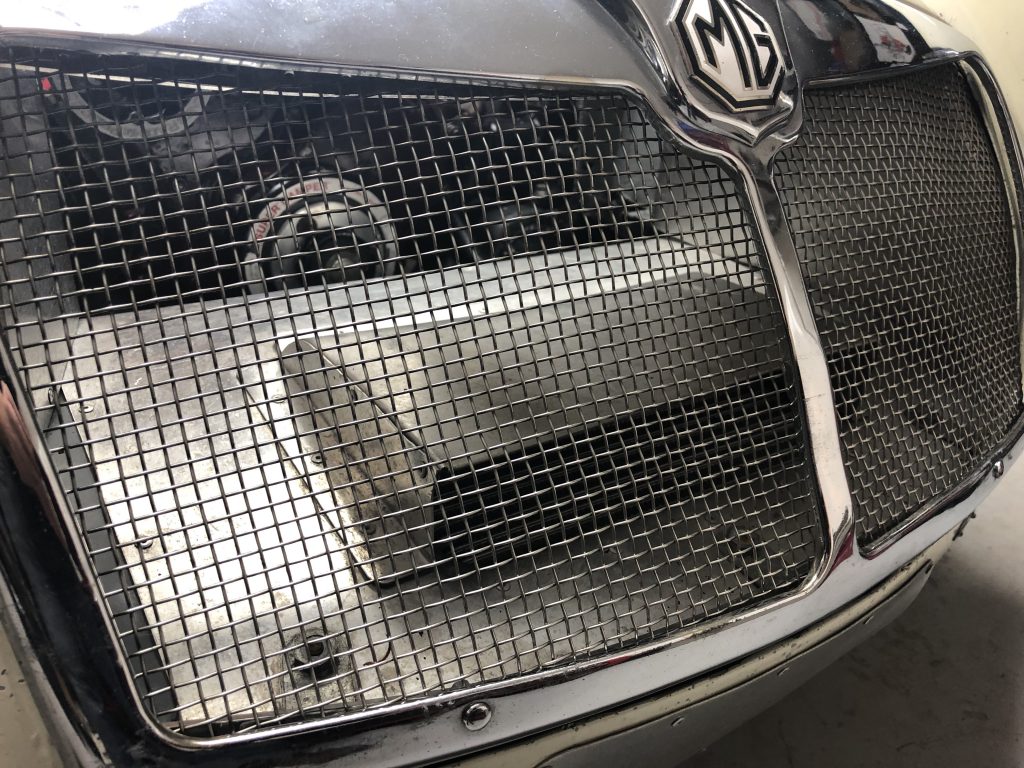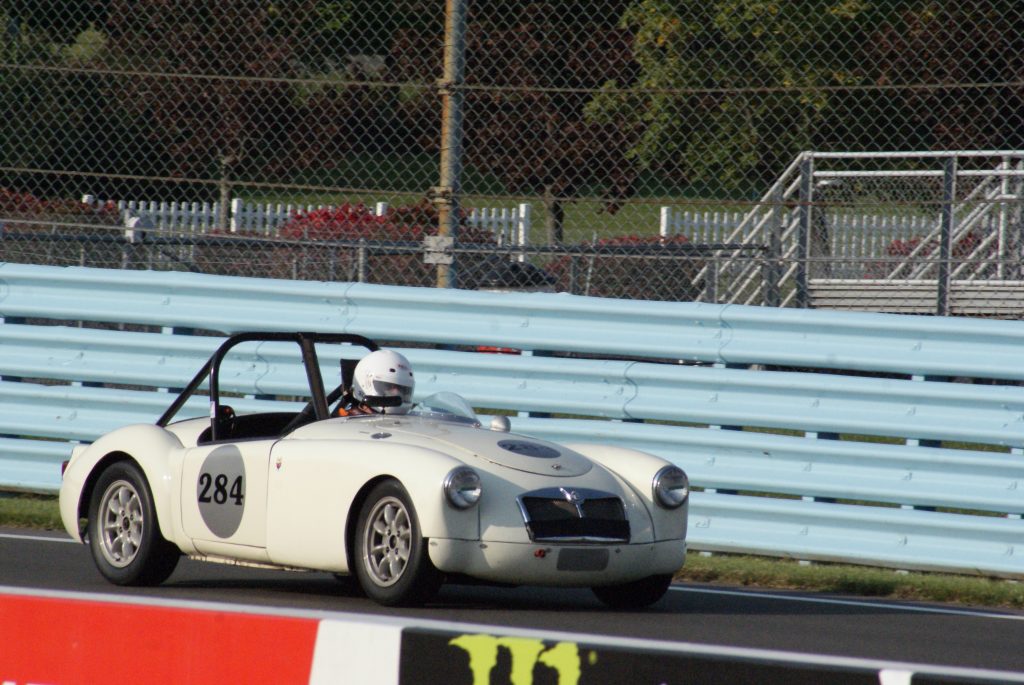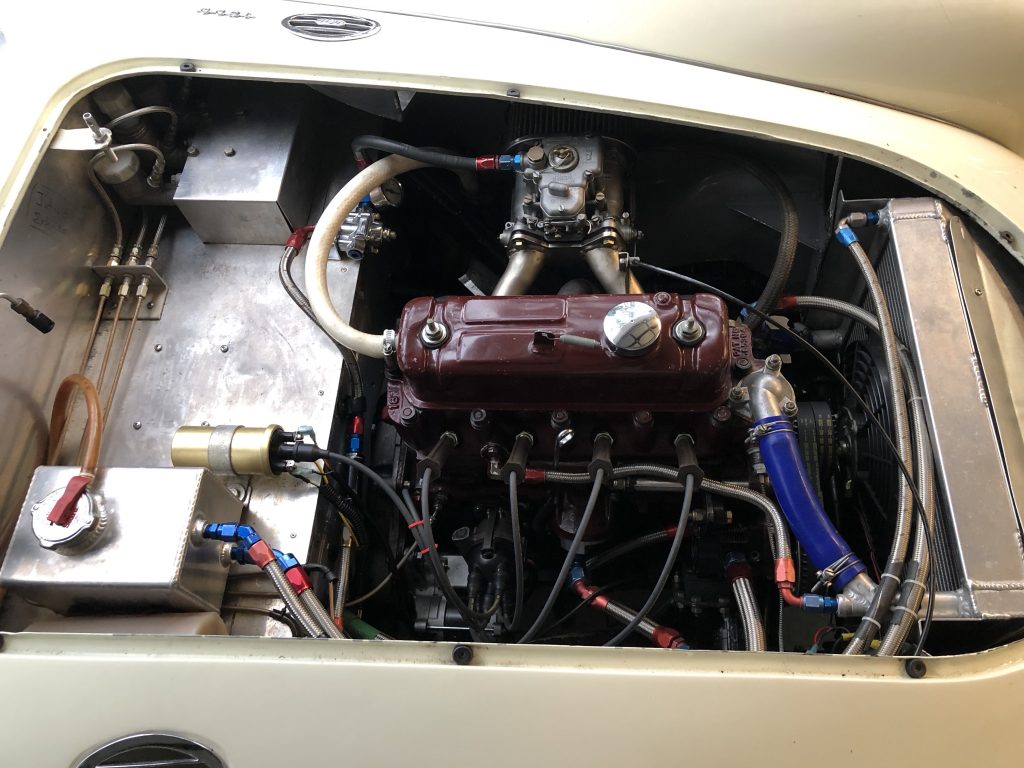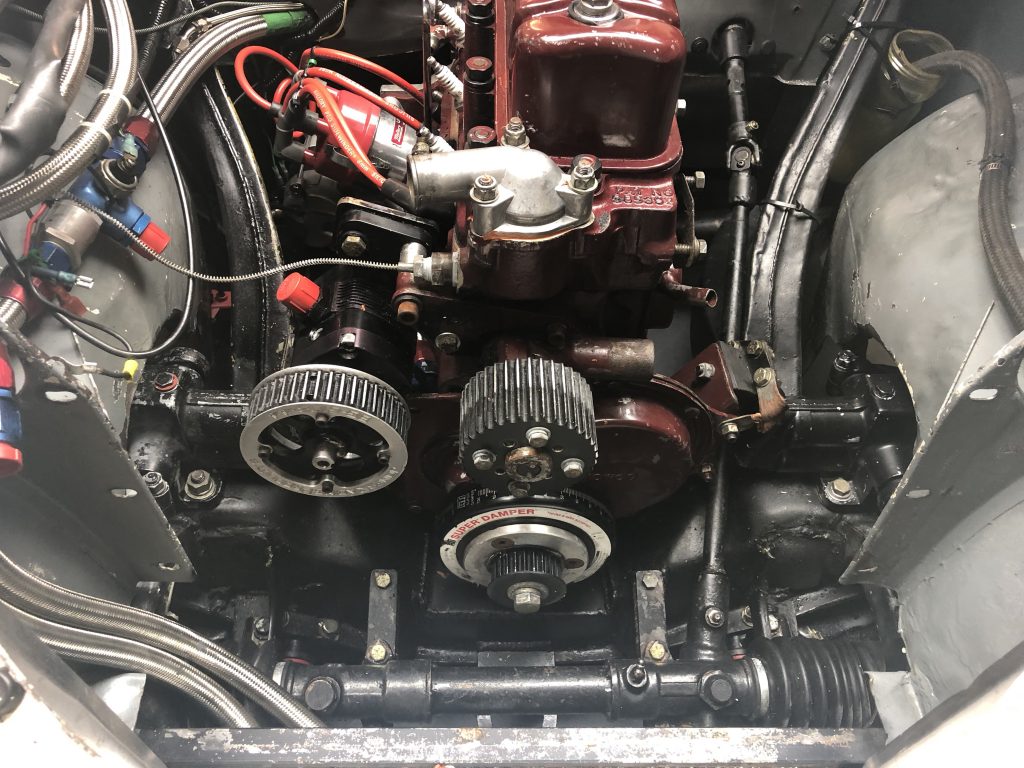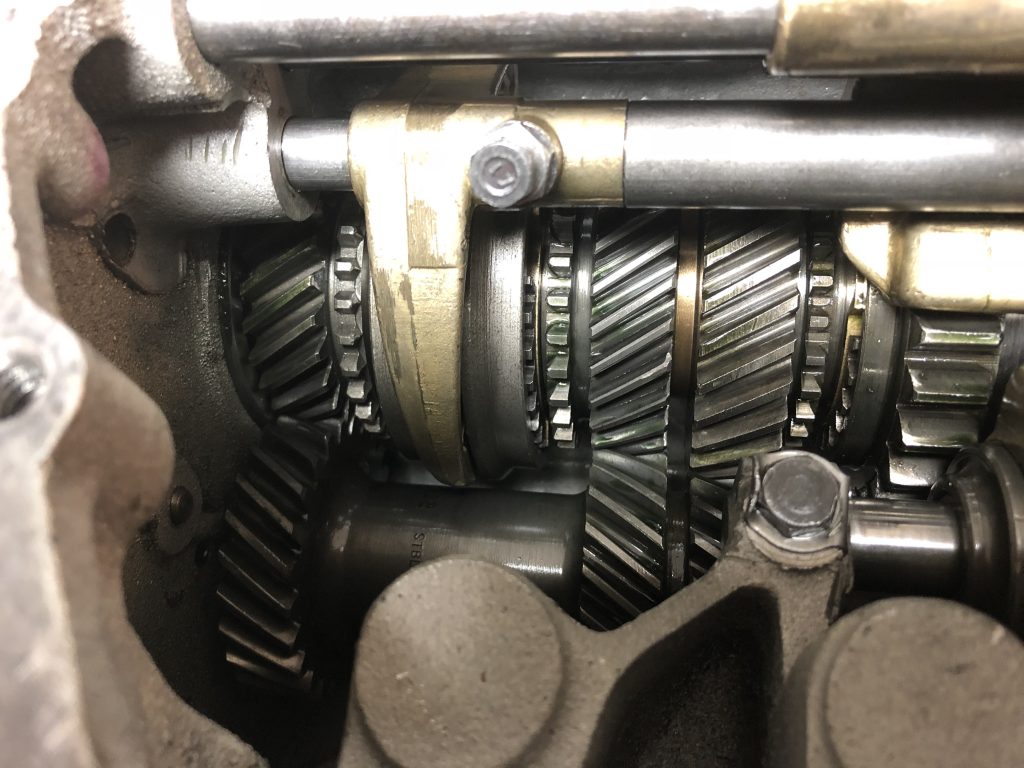 Video courtesy Jessica Jonk.