Current News
FF50th @ Road America Pre-Registration
The pre-registration window for the FF50th @ Road America is open!  Before you click on the link below, here is what you need to know:
Event Outline.  The FF50th will headline the 2019 Elkhart Lake Vintage Festival, the VSCDA's marquee event.  Formula Ford's 50th anniversary will be a five-day party (September 11-15, 2019) starting with registration, tech, and paddock load-in on Wednesday, morning test and tune (additional fee) and afternoon untimed practice on Thursday, qualifications and a group photo on Friday, and concluding with heat and feature races on Saturday and Sunday. Open to Kent-powered Formula Fords of all ages, there will be two race groups allowing a total entry of 200 cars.
Pre-Registration.  Pre-registration will be open through January 31, 2019.  A $200 refundable deposit towards an expected $550 entry fee will reserve a spot in the FF50th.  Pre-entries will initially be classified into Historic Formula Ford, Club Ford (treads), Formula Ford (treads), Club Ford (slicks), and Formula Ford (slicks).  Final classifications and provisional race group placements will be announced in February.  During pre-registration, classification and/or race group change requests will be accommodated.  Pre-registration deposits are refundable until March 29, 2019.
Regular Registration.  Pre-registrants will be required to complete their entry during regular registration.  During regular registration, there may be movement across race groups as one fills up before the other.  The regular registration window will open at a date to be announced.
Crossover entries (a driver entering one car in both race groups…two drivers sharing one car is not a crossover) will be tentatively accepted.  If there are less than 200 entries on August 12, 2019, crossover entries will be confirmed until both race groups are full.  Entries after August 12, 2019will not bump a confirmed crossover out of a race group.
If both FF50th Formula Ford race groups are over-subscribed, overflow entries will be given the option to race in another ELVF race group.
Here's a quick checklist to successfully pre-register on the first try:
Driver Eligibility.  The following requirements must be met to race at the FF50th:
– be a VSCDA member (Membership is not required for pre-registration, you can purchased your membership during the registration process)
– be at least 18 years old by October of 2019
– have a Medical on file with VSCDA OR hold a competition racing license
– have wheel-to-wheel competition racing experience within the past 2 years OR
– have completed a competition racing school within the past 2 years
VSCDA membership is not required to pre-register.  Memberships for 2019 can be purchased during regular registration. If you do not meet the licensing or seat time requirements, the VSCDA has a combined driver's school and race weekend May 2-5, 2019 at GingerMan Raceway in South Haven, Michigan.
Licensing.  Competition licenses issued by the VMC (and its affiliated clubs), SCCA, FIA, and CASC are accepted at VSCDA events.  If you are planning on racing at the FF50th on a competition license issued by another organization, please submit a scan of your license with your entry for approval.Calendar year 2018 licenses will be accepted for pre-registration with the good faith understanding that they will be renewed for 2019.
Car Preparation Sheet.  A Car Preparation Sheet must be on file with the VSCDA.  Here is the link: CAR PREP SHEET
FF50th Driver & Car Questionnaire.  The FF50th registration process includes a questionnaire to collect information that will be used in making race group assignments.
FF50th-Driver-Car-Data-Questionnaire
 Here is the link to the FF50th on-line pre-registration: https://vscda.org/vscdaos/signup/pre-reg-ELVF-2019
Any questions?  Please contact Steve Beeler:  steve@stevebeeler.com
2019 VSCDA Race Season
| | |
| --- | --- |
| Gingerman Spring Brake Drivers School & Race Event | May 2-5,2019 |
| Blackhawk Vintage Classic XXVI | June 14-16, 2019 |
| Vintage Grand Prix AuGrattan XXXII | Aug 16-18, 2019 |
| Elkhart Lake Vintage Festival XXXIII | Sept 12-15, 2019 |
| Blackhawktoberfest II | Oct 12-13, 2019 |
| Annual Banquet | Nov ,2019 |
2018 VSCDA Elkhart Lake Vintage Festival DVD Featuring Spridgets
2018 VSCDA Elkhart Lake Vintage Festival DVD Featuring Spridgets – 69 minutes – Track and In-Car Video, Driver Interviews.  Guest of Honor Peter Egan talks about his early writing career and racing.   Celebrating 60th Anniversary of the Austin Healey Sprite.
Friday: Practice Sessions , Enduro for Groups 2, 3, 4, 5, 6, and 8, and Spridget race car show.
Saturday: Sprint Races, Gather on Green Car Show with Special 60th Anniversary of the Austin Healey Sprite Exhibit.
Sunday: Spridget Parade Lap, Spridget Feature Race, Kimberly Cup, Sheldon Cup, Elkhart Lake Cup and Featured Race Groups.
VIEW 5 min. TRAILER on YouTube:
https://www.youtube.com/watch?v=X7nby7PGNBk
VSCDA member price $19.00 (with postage included). Payment by check or PayPal.  Produced by John Seaman – 456 Bluebird Ln. Sheboygan Falls, WI 53085   jcman22@charter.net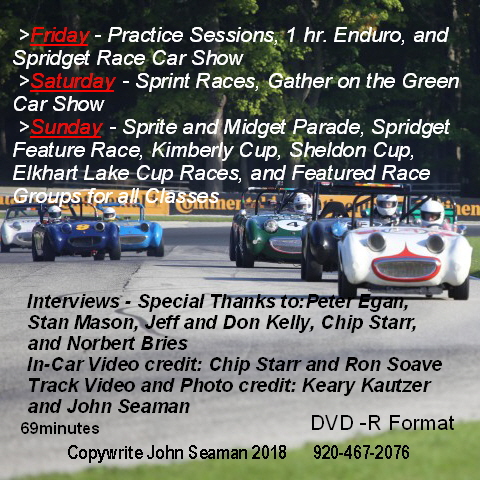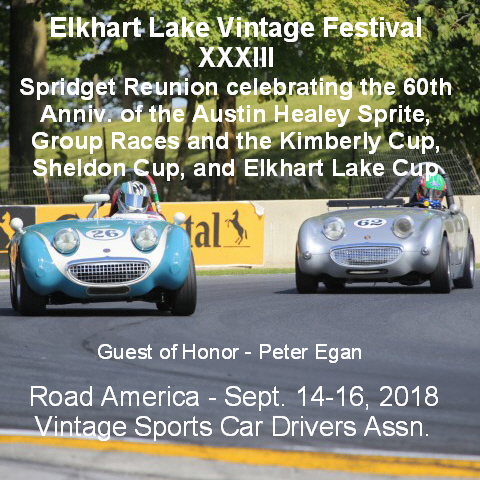 Redline Photos @ Gingerman
A Race Group
http://redlinephoto.com/event-gallery/race-group-vscda-gingerman-may/
B and C Race Group
http://redlinephoto.com/event-gallery/b-c-race-group-vscda-gingerman-may/
D Race Group
http://redlinephoto.com/event-gallery/d-race-group-vscda-gingerman-may/
E Race Group
http://redlinephoto.com/event-gallery/e-race-group-vscda-gingerman-may/
Links
Video courtesy Jessica Jonk.